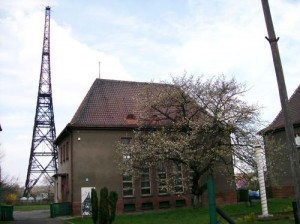 It was on this day in 1939 that seven Nazi commandos, wearing Polish uniforms and with a prisoner alongside, attacked a radio station in Germany. The three engineers on duty were quickly subdued, and one team member then started broadcasting a message (in Polish) that the area was being annexed by Poland for "just claims." The captive, who had arrested the day before and was known in the community as favoring the Poles, was shot in the head and left on the station's front steps. The SS team then continued on to a forestry station, where they smeared ox blood on the walls, and then onto a customs house, where several dead bodies of prisoners from a nearby concentration camp were left. The very next day German tanks rolled into Poland, with Hitler using these examples of "Polish aggression" as justification.
The earliest event that Wiki says happened on this day is "1056 – After a sudden illness a few days previous, Byzantine Empress Theodora, dies without children to succeed the throne, thus ending the Macedonian dynasty" and the most recent is "2010 – The last episode of The Bill, the longest-running police procedural television series in the United Kingdom, is aired on ITV1."
A few other things that also took place on this day are:
1888 – The body of Jack the Ripper's first victim, 43-year old Mary Ann Nichols, is found in front of a stable door.
1957 – Elvis Presley's last appearance outside the USA takes place at the Empire Stadium in Vancouver.
2006 – Norwegian police recover two paintings, The Scream and Madonna, after they had been stolen two years earlier.
Happy birthday to Chris Tucker, Glenn Tilbrook, Gina Schock, Richard Gere, Rudolf Schenker, Van Morrison, and Jerry Allison.