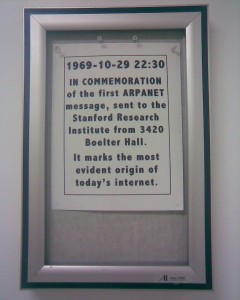 It was on this day in 1969 that the first-ever link-up between two different computers was made via ARPANET. A the time, computers were rare and this network was created in order to allow researchers to make full use of them. The first attempt was between a computer at UCLA and one at Stanford, but the system crashed after the letters "lo" (for the command "login") were typed. An hour later another attempt was successful, and by the end of the year four different computers were on the network. The techniques used to develop ARPANET would later be used for the Internet.
The earliest event that Wiki says happened on this day is "539 BC – Cyrus the Great entered the city of Babylon, detained Nabonidus and ended the Babylonian captivity. He gave the Jews permission to return to Yehud province and to rebuild the Temple; but most Jews chose to remain in Babylon." and the most recent is "2008 – The Philadelphia Phillies claim the world series title over the Tampa Bay Rays 4-3. This was the first major sports title in Philadelphia for 25 years and was 28 years since the Phillies last World Series title in 1980."
A couple other things that also happened on this day are:
1863 – Representatives from eighteen different countries sign a resolution that forms the International Red Cross.
1940 – US starts its first military draft during peacetime.
Happy birthday to Winona Ryder, Dan Castellaneta, Kate Jackson, Richard Dreyfuss, and Denny Laine.