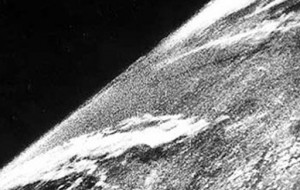 It was on this day in 1946 that a V-2 rocket was launched from the desert in New Mexico. The rocket, which had been captured from the Nazis, rose to a height of 65 miles. It had a camera attached, and the black&white pictures were the first taken of the Earth from outer space.
The earliest event that Wiki says happened on this day is "69 – Second Battle of Bedriacum, forces under Antonius Primus, the commander of the Danube armies, loyal to Vespasian, defeat the forces of Emperor Vitellius" and the most recent is "2008 – "Bloody Friday" saw many of the world's stock exchanges experience the worst declines in their history, with drops of around 10% in most indices."
A few other things that also took place on this day are:
1901 – Annie Taylor, celebrating her 63rd birthday, becomes the first person to go over Niagara Falls in a barrel.
1940 – 40-hour work week goes into effect in the US.
1962 – James Brown records his performance Live at the Apollo.
1969 – Butch Cassidy and the Sundance Kid opens in theaters.
Happy birthday to F. Murray Abraham and Bill Wyman.