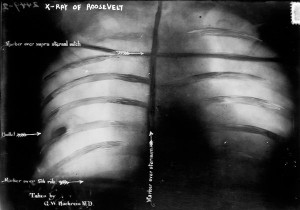 It was on this day in 1912 that Theodore Roosevelt was shot while campaigning for President. The former Republican president had been displeased with his successor and was re-seeking the office on an independent ticket. He was about to make a speech in Milwaukee WI when a mentally-ill man shot him with a pistol. The bullet, however, was slowed down by the 50 pages of the speech Roosevelt was getting ready to make and did not kill him. Despite the wound he proceeded to make his speech as planned, refusing to be taken to a hospital until afterwards. Upon examination by a doctor it was determined that an attempt to remove the bullet would be too dangerous and it remained lodged in his body for the rest of his life.
The first thing that Wiki says happened on this day is "222 – Pope Callixtus I is killed by a mob in Rome's Trastevere after a 5-year reign in which he has stabilized the Saturday fast three times per year, with no food, oil, or wine to be consumed on those days. Callixtus is succeeded by cardinal Urban I" and the most recent is "2006 – College football brawl between University of Miami and Florida International University leads to suspensions of 31 players of both teams."
A few other things that also took place on this day are:
1926 – A. A. Milne's Winnie-the-Pooh is first published.
1962 – A US reconnaissance plane takes photographs of Soviet missile installations being constructed in Cuba.
1982 – While addressing members of the Department of Justice, President Reagan declares a war against drugs. Even though billions of $$$ have since been spent and millions of arrests have occurred, the drugs are still winning.
Happy birthday to Javon Walker, Natalie Maines, A.J. Pero, Thomas Dolby, Greg Evigan, Harry Anderson, Justin Hayward, Colin Hodgkinson, Roger Moore, and C. Everett Koop.