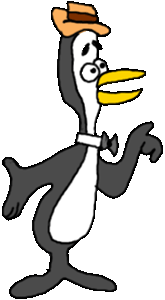 It was on this day in 1963 that the cartoon Tennessee Tuxedo and his Tales debuted on TV. Joe Harris, the creator, was inspired to make educational programming for kids after the commissioner of the FCC declared television to be a "vast wasteland." Tennessee (a penguin) and Chumley (a walrus) would learn all kinds of lessons, on many different subjects, from Professor Phineas J. Whoopee and his Three Dimensional Blackboard.  The show would air for two seasons, with the first 34 episodes also being used as part of The Underdog Show the following year.
The earliest event that Wiki says happened on this day is "48 BC – Pompey the Great is assassinated on the orders of King Ptolemy of Egypt after landing in Egypt" and the most recent is "2009 – The military junta leading Guinea, headed by Captain Moussa Dadis Camara, raped, killed and wounded protesters during a protest rally in a stadium called Stade du 28 Septembre."
A couple other things that also took place on this day are:
1850 – US Navy abolishes flogging as a form of punishment.
1987 – First episode of Star Trek: The Next Generation is broadcast on TV.
Happy birthday to Nick St. Nicholas, Ben E. King, Brigitte Bardot, and Doris Singleton.