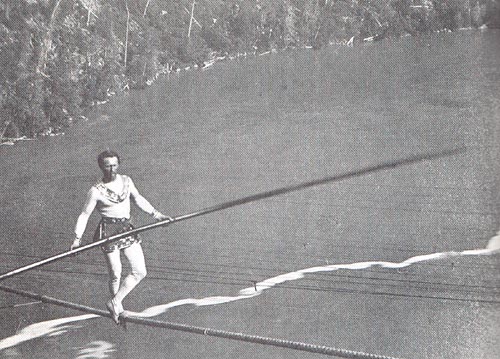 It was on this day in 1859 that Jean-François Gravelet (going by his stage name of "Charles Blondin") became the first person to walk across the gorge at the bottom of Niagara Falls on a tightrope. About 5,000 people watched his 20 minute journey from American to Canadian soil. The acrobat would repeat the stunt several times over the next couple years, adding different elements like wearing a blindfold, riding a bicycle, walking on stilts, and pushing a wheelbarrow. (Not all at the same time. He was amazing, but not THAT amazing.) He also performed the feat twice while carrying someone on his back, and at least one time wheeled out a mini-stove in order to cook an omelet.
The earliest event that Wiki says happened on this day is "350 – Roman usurper Nepotianus, of the Constantinian dynasty, is defeated and killed by troops of the usurper Magnentius, in Rome" and the most recent is "1997 – The United Kingdom transfers sovereignty over Hong Kong to the People's Republic of China."
A couple other things that also happened are:
1971 – The 26th Amendment is ratified, changing the voting age to 18.
1994 – Tonya Harding is stripped of her national championship and banned for life from the US Figure Skating Association.
Wishes for a happy birthday go out to Michael Phelps, Tony Rock, Mike Tyson, Yngwie Malmsteen, Vincent D'Onofrio, David Alan Grier, Andy Scott, and Glenn Shorrock.