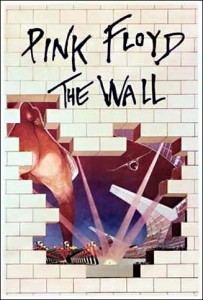 It was on this day in 1979 that Pink Floyd released their album The Wall. The rock opera was inspired during the band's 1977 stadium tour, when Roger Waters became so frustrated with the audience that he envisioned building an actual wall between him and them. The following year the band toured in support of the album, performing only 31 shows due to the complexity of the theatrical show. A movie, also called The Wall, was released in 1982.
The earliest event that Wiki says happened on this day is "1700 – Battle of Narva – A Swedish army of 8,500 men under Charles XII defeats a much larger Russian army at Narva" and the most recent is "2005 – John Sentamu becomes the first black archbishop in the Church of England with his enthronement as the 97th Archbishop of York."
A few other things that also took place on this day are:
1940 – Desi loves Lucy; they get married.
1954 – A meteorite crashes through a roof in Alabama and hits a woman taking a nap. It is the only documented case of a person being hit by a rock from outer space.
1982 – Michael Jackson's Thriller is released. It will go on to become the best-selling album of all time.
2004 – After 74 consecutive wins, Ken Jennings finally loses a game of Jeopardy! He earned a total of $2,520,700, becoming TV's biggest game show winner.
Happy birthday to Ben Stiller, Bo Jackson, Cherie Currie, Gordon Liu, Billy Idol, Simonetta Stefanelli, Mandel Patinkin, Roger Glover, G. Gordon Liddy, Dick Clark, and Robert Guillaume.