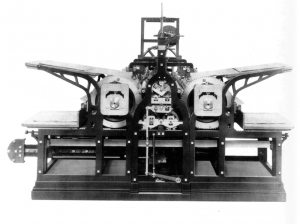 It was on this day in 1814 that The London Times became the first newspaper to be printed by an automatic press. Built by two German inventors, the steam powered machine was able to produce over 2000 pages per hour, compared to only 800 per hour that the hand-cranked presses were able to do. When the newspaper went on sale the next day, it ushered in a new era of cheap and accessible reading material for the masses.
The earliest thing that Wiki says took place on this day is "1095 – On the last day of the Council of Clermont, Pope Urban II appoints Bishop Adhemar of Le Puy and Count Raymond IV of Toulouse to lead the First Crusade to the Holy Land" and the most recent is "2002 – Suicide bombers blow up an Israeli-owned hotel in Mombasa, Kenya; their colleagues fail in their attempt to bring down Arkia Israel Airlines Flight 582 with surface-to-air-missiles."
A few other events that also occurred on this day are:
1925 – Uncle Jimmie Thompson is the first guest on the first radio broadcast of WSM Barn Dance. The show would later be re-named The Grand Ole Opry.
1948 – First Polaroid camera sold.
1974 – John Lennon joins Elton John on stage at Madison Square Garden. They play three songs together, and it is the last time Lennon performs in public.
Happy birthday to Jon Stewart, Jane Sibbett, Judd Nelson, Paul Shaffer, Beeb Birtles, and Berry Gordy Jr.