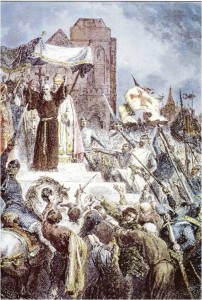 It was on this day in 1095 that Pope Urban II first urged Christians in Europe to wage war against Muslims in the Middle East. The Turks had control of Jerusalem, and they had banned Christian pilgrims from visiting the Holy Land. The Pope stated that all sins would be forgiven for soldiers that fought under the "Banner of God", and the First Crusade was soon launched.
The earliest event that Wiki says happened on this day is "176 – Emperor Marcus Aurelius grants his son Commodus the rank of Imperator and makes him Supreme Commander of the Roman legions" and the most recent is "2006 – The Canadian House of Commons endorses Prime Minister Stephen Harper's motion to declare Quebec a nation within a unified Canada."
A couple other things that also occurred on this day are:
1826 – Friction match is invented by John Walker.
1924 – Macy's Thanksgiving Day Parade is held for the first time.
Happy birthday to Jaleel White, Robin Givens, Mike Bordin, Michael Rispoli, Bill Nye, Curtis Armstrong, and James Avery.