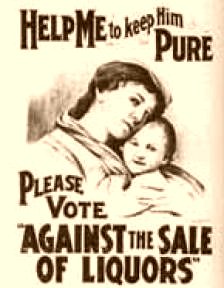 It was on this day in 1919 that Congress overrode Pres. Wilson's veto and passed the Volstead Act into law. The law, which was permitted by the passage of the 18th Amendment, outlawed most alcohol and liquor. The "Great Experiment" resulted in an increase of organized crime while having little effect on the consumption of alcohol, and was repealed in 1933.
The earliest event that Wiki says happened on this day is "97 – Emperor Nerva is forced by the Praetorian Guard, to adopt general Marcus Ulpius Trajanus as his heir and successor" and the most recent is "2009 – NASA successfully launches the Ares I-X mission, the only rocket launch for its later-cancelled Constellation program."
A few other things that also took place on this day are:
1538 – The first university in the New World is established via a Papal Bull.
1636 –  The first college in what will become the US is established by the Massachusetts Bay Colony.
1886 – The Statue of Liberty is dedicated by Pres. Cleveland.
1965 – Gateway Arch in St. Louis is "topped out", thus completing construction.
Happy birthday to Ben Harper, Jeremy Davies, Julia Roberts, Andy Richter, Jami Gertz, Bill Gates, Desmond Child, Annie Potts, Bruce Jenner, Telma Hopkins, and Charlie Daniels.