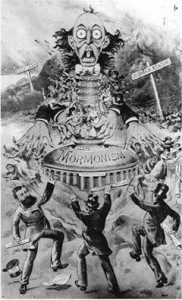 It was on this day in 1838 that the Governor of Missouri issued an order that said all Mormons must leave or be exterminated. Trouble between the Latter Day Saints and others had been brewing since 1831, when one of the church leaders announced that a holy city was to be built in the state leading to a large influx of the faithful. In August of 1938 a small group of Mormons were threatened with physical violence while trying to vote, and gun fire was exchanged. Things had escalated even more by early October, and vigilantes…on both sides…were burning down the homes of their opponents and pillaging livestock. Gov. Lilburn Boggs issued Executive Order 44 after a unit of state militamen were attacked by Mormons, stating "the Mormons must be treated as enemies, and must be exterminated or driven from the State if necessary for the public peace—their outrages are beyond all description." By the following Spring, practically all of the 10,000 Latter Day Saints had left Missouri. The order was not officially rescinded by the state until 1976.
The first thing that Wiki says happened on this day is "312 – Constantine the Great is said to have received his famous Vision of the Cross" and the most recent is "2005 – The SSETI Express micro-satellite is successfully launched from the Plesetsk Cosmodrome."
A few other events that also took place on this day are:
1775 – King George III goes before Parliament and declares the American colonies to be in a state of rebellion.
1873 – Joseph Glidden, of Dekalb IL, applies for a patent for barbed wire.
1954 – Disneyland premieres on TV.
1994 – Department of Justice announces that the US prison population is over 1 million people. (It has since increased to 2.4 million people behind bars.)
Happy birthday to Kelly Osbourne, Simon Le Bon, K.K. Downing, and Garry Tallent.