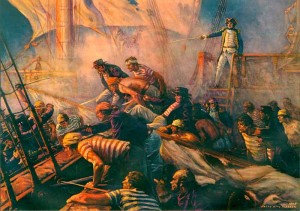 It was on this day in 1779 John Paul Jones responded to a demand to surrender by saying "I have not yet begun to fight!" He was in command of the USS Bonhomme Richard, and was engaged in a battle off the coast of England against two British ships. His ship was aflame when the demand for surrender was given, but three hours later the young Captain won the battle and took command of the Serapis, a 44-gun Royal Navy frigate, after they surrendered.
The earliest event that Wiki says happened on this day is "1122 – Pope Calixtus II and Holy Roman Emperor Henry V agree to the Concordat of Worms to put an end to the Investiture Controversy" and the most recent is "2008 – Kauhajoki school shooting: Matti Saari kills 10 people before committing suicide."
A couple other things that also took place on this day are:
1806 – The Lewis & Clark expedition return to St. Louis from their explorations.
1962 – First episode of The Jetsons. It is also the first TV series that ABC broadcasts in color.
Happy birthday to Jason Alexander, Bruce Springsteen,  Neal Smith, Julio Iglesias, and Mickey Rooney.