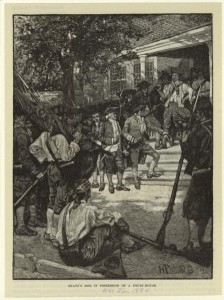 It was on this day in 1786 that about 1,200 farmers and skilled tradesmen, armed with muskets & swords, marched in formation into Northhampton MA in order to prevent the local courthouse from hearing cases involving debtors.
The entire situation is far too complicated to be summed up in a couple paragraphs; click here for information about the reasons behind Shay's Rebellion.
The earliest event that Wiki says happened on this day is "708 – Copper coins are minted in Japan for the first time (Traditional Japanese date: August 10, 708)" while the most recent is "2007 – 2007 United States Air Force nuclear weapons incident: six US cruise missiles armed with nuclear warheads are flown without proper authorization from Minot Air Force Base to Barksdale Air Force Base."
A few other things that also took place on this day are:
1842 – The First Opium War comes to an end.
1958 – The US Air Force Academy is completed and opens its doors to the cadets that had been staying in temporary barracks since 1955.
1966 – The Beatles play their last "ticketed" concert. (They will perform together in public only one more time…a free rooftop show…almost 2 1/2 years later.)
Slices of birthday cake go out to Dave Malone, Rebecca De Mornay, Elliott Gould, and Robin Leach.