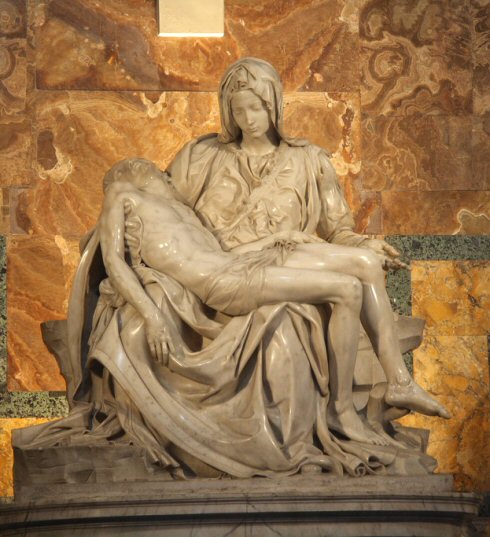 It was on this day in 1498 that Cardinal Jean de Billheres commissioned Michelangelo Buonarroti to carve a statue. The young artist was 24 years old and had been in Rome for only a couple years when he was granted this boon. Michelangelo delivered the sculpture of the Virgin Mary cradling a dead Jesus in time for the Jubilee in 1500, and the marble statute was installed in the mausoleum where the cardinal was expecting to be buried. Twenty years later a nearby chapel was being remodeled and the piece of art was moved to a different location. It was re-located several more times in the next few centuries, including being shipped to the New York World's Fair in 1964 as part of the Vatican's exhibit, and is currently in St. Peter's Basilica. This piece was the only creation that the artist ever signed; he quickly etched "MICHAEL. ANGELUS. BONAROTUS. FLORENT. FACIEBAT" (Michelangelo Buonarroti of Florence Created This) across Mary's sash when he overheard an observer giving saying someone else had made it.
The first event that Wiki says happened on this day is "1071 – Battle of Manzikert: The Seljuk Turks defeat the Byzantine Army at Manzikert" and the most recent is "2008 – Russia unilaterally recognizes the independence of the former Georgian breakaway republics Abkhazia and South Ossetia."
A few other things that also happened on this day are:
1873 – The first public kindergarten in the US is authorized by the school board in St. Louis MO.
1920 – Women in the US are granted the the right to vote when the 19th amendment to the Constitution takes effect.
1939 – A double-header between the Cincinnati Reds and the Brooklyn Dodgers is broadcast on TV, a first for major league baseball.
Wishes for a happy birthday go out to Chris Pine, Macaulay Culkin, Shirley Manson, Mark Snow, and Valerie Simpson.