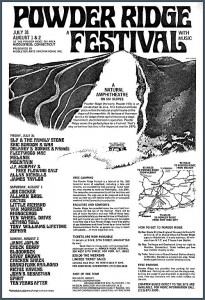 It was on this day in 1970 that 30,000 people began to show up in Middlefield, CT for a rock festival that had already been canceled. Planned to be held at the Powder Ridge Ski Area, the 3-day lineup was supposed to include Jethro Tull, Allman Brothers, Janis Joplin, Chuck Berry, Eric Burdon & War, Sly and the Family Stone, Fleetwood Mac, Melanie, Mountain, James Taylor, Joe Cocker, Little Richard, Van Morrison, Savoy Brown, Grand Funk Railroad, Richie Havens, John B. Sebastian, Spirit, Ten Years After and many more. However, local official were fearful of the large crowds that were expected and an injunction against the event was issued a couple days earlier. Signs were posted on the highway warning people that the festival was canceled, and there was no food nor plumbing available for the people who did show up. But quite a few did anyways. Melanie and a couple local bands did end up performing for the crowd, but national news was mostly devoted to the large amounts of hallucinogens that were available. Dr. Abruzzi, whose previous experiences included treating people at the Woodstock festival, later stated that the Powder Ridge festival had more bad trips per capita than any other music festival he was involved with. Comedian Lewis Black was also at the event and gives a personal account of the weekend in his autobiography.
The earliest event that Wiki says occurred on this day is "30 BC – Battle of Alexandria: Mark Antony achieves a minor victory over Octavian's forces, but most of his army subsequently deserts, leading to his suicide" and the latest is "2007 – Operation Banner, the presence of the British Army in Northern Ireland, and the longest-running British Army operation ever, comes to an end."
A few other things that also happened on this day are:
1492 – Last day for any people of the Jewish faith to be legally allowed in Spain. The decree ordering this was signed three months earlier and wasn't revoked until the end of 1968.
1703 – Author Daniel Defoe is put into a pillory in London for three days as punishment for publishing a politically satirical pamphlet. However, the pamphlet is so popular with the common folks that he is pelted with flowers rather than the traditional rotten vegetables/filth.  He would go on to write several more books, including the classic Robinson Crusoe.
1914 – The New York Stock Exchange closes due to WWI. It didn't re-open until the end of the year.
Happy birthday to Norman Cook, Wesley Snipes, J. K. Rowling, Bob Welch, and Gary Lewis.