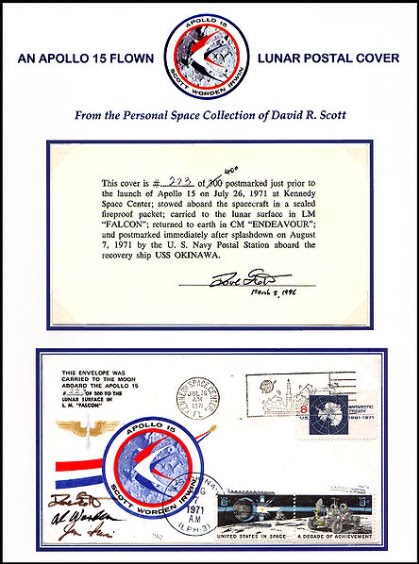 It was on this day in 1971 that Dave Scott and Jim Irwin landed on the moon. While this was the fourth time that the US had put a team on the moon, it was the first time that the Lunar Rover was used. Apollo 15 also stayed on the surface of the moon longer than previous missions and ended up gathering over 179 pounds of moon rocks. However their accomplishments were slightly tarnished after they returned to Earth and it was discovered that the crew had taken along several hundred postage stamp covers with the intent to sell them as "space souvenirs." 100 of them were released through a private dealer but NASA confiscated the rest. After losing a lawsuit in 1983 the space agency was forced to return the collectibles to the men, and in 2008 one of the stamp covers was sold at auction for $15,000.
The earliest event that Wiki says happened on this day is "762 – Baghdad is founded by caliph Al-Mansur" while the most recent are two events from 2006: "The world's longest running music show Top of the Pops is broadcast for the last time on BBC Two. The show had aired for 42 years" and "Lebanon War: At least 28 civilians, including 16 children are killed by the Israeli Air Force in what Lebanese call the Second Qana massacre and what Israel considers to be an attempt to stop rockets' being fired, from Lebanon, at Israeli civilian targets."
A few other things that also took place on this day are:
1619 – The House of Burgesses, the first representative assembly in Colonial America, meets for the first time.
1733 – Society of Free Masons build their first Grand Lodge in Colonial America.
1916 – A munitions depot on Black Tom Island, NJ is blown up by German agents.
1954 – Elvis Presley joins the American Federation of Musicians, Local 71.
1956 – In God We Trust  becomes the official US motto.
1965 – President Johnson signs a law that creates Medicare and Medicaid.
1967 – Race riots erupt in Milwaukee, which was considered one of the most segregated city in America at the time. Four people are killed and over 1,500 arrested in the course of the next eight days.
Happy birthday to Christopher Nolan, Lisa Kudrow, Richard Linklater, Arnold Schwarzenegger, William Atherton, David Sanborn, Paul Anka, Buddy Guy, and Sid Krofft.